Rome and the Vatican
Follow in the Footsteps of the Popes Who Marked History
This 2000-year-old institution embodies the principle of secrecy: Vatican terminology is a source of mystery and questions, encompassing "secret" archives, the title of "secret" chamberlain, and the "secret" consistory.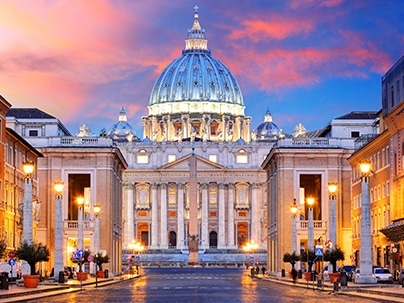 You will be welcomed at the airport by our guide and speaker, Francine van Hertsen, a leading expert in the history of Rome, and transferred to start your first days of tours in the City of Popes.
"Da Piperno" lunch in the Ghetto – a must for any initiation into Roman gastronomy.
by climbing up Janiculum Hill, we will discover what was considered architectural perfection during the Renaissance
From the charming San Pietro Church in Montorio, the view over Rome is uninterrupted, but it is even more magical in front of the "Fontanone" a few metres higher.
Following this walk, you can rest at your hotel.
Exclusive evening at the Palazzo Farnèse.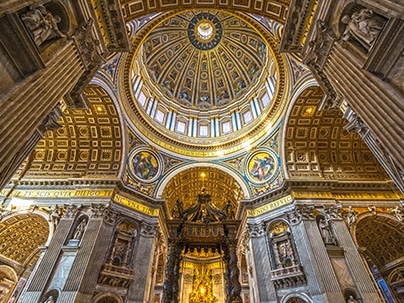 The Colonna Palace, residence of Martin V before he was made pope, is equal to the changes he effected. The first pope of the Renaissance sought to reconcile the persuasions of Avignon and Rome, finally succeeding in ending the Western Schism.
Lunch at the Palazzo Colonna.
After passing the Swiss Guard, that army created by Julius II, characterised by very specific recruitment requirements and stringent rules, we will descend into the foundations of Roman ruins,
The exclusive, private tour of the Sistine Chapel and the Raphael rooms will recall the story of Sixtus IV, who wished to reconstruct Constantine's basilica.
We will then make a secret escape via the Passetto – a hidden corridor directly connecting the Vatican to the Castel Sant'Angelo, where Clement VII took refuge during the Sack of Rome.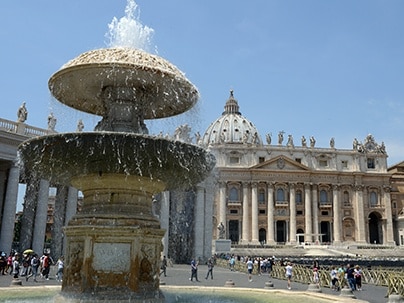 Departure from the hotel with luggage for the final part of your Rome tours.
The splendour of the Baroque era illustrates the magnificence and luxury of Rome after the Council of Trent.
After visiting this residence, the private collection of family paintings in the Doria Pamphilj gallery will reveal the taste and patronage of the pope.
The Villa Medici and its gardens will illustrate the eponymous dynasty, which had two popes in its family line.
Airport transport in the afternoon for your return.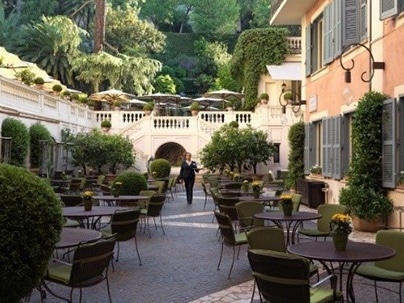 Hotel de Russie (5-star)
Located on the corner of Piazza del Popolo, a stone's throw from the Piazza d'Ispagna in the vibrant heart of Rome, Hotel de Russie elegantly combines the contemporary and the traditional.