Rome et le Vatican
Suivre les traces des papes qui ont marqué l'histoire
This 2000-year-old institution embodies the principle of secrecy: Vatican terminology is a source of mystery and questions, encompassing ?secret? archives, the title of ?secret? chamberlain, and the ?secret? consistory.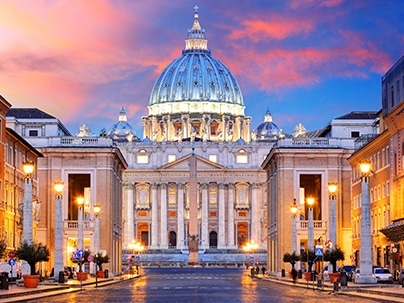 Vous serez accueillis à l'aéroport par notre guide et conférencière, Francine van Hertsen, grande spécialiste de l'histoire de Rome, et transférés pour commencer vos premiers jours de visites dans la Cité des Papes.
?Da Piperno? lunch in the Ghetto ? a must for any initiation into Roman gastronomy.
en grimpant sur la colline du Janicule, nous découvrirons ce qui était considéré comme la perfection architecturale à la Renaissance.
From the charming San Pietro Church in Montorio, the view over Rome is uninterrupted, but it is even more magical in front of the ?Fontanone? a few metres higher.
Après cette promenade, vous pourrez vous reposer à votre hôtel.
Exclusive evening at the Palazzo Farnèse.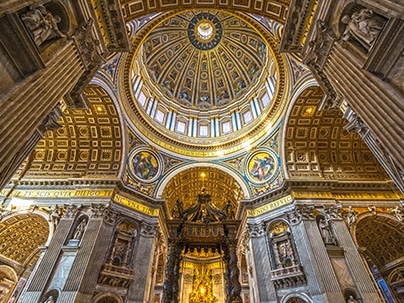 Le palais Colonna, résidence de Martin V avant qu'il ne soit fait pape, est à la hauteur des changements qu'il a opérés. Le premier pape de la Renaissance a cherché à concilier les convictions d'Avignon et de Rome, réussissant finalement à mettre fin au schisme d'Occident.
Déjeuner au Palazzo Colonna.
Après avoir passé la Garde suisse, cette armée créée par Jules II, caractérisée par des conditions de recrutement très spécifiques et des règles strictes, nous descendrons dans les fondations des ruines romaines
La visite exclusive et privée de la chapelle Sixtine et des salles de Raphaël rappellera l'histoire de Sixte IV, qui souhaitait reconstruire la basilique de Constantin.
We will then make a secret escape via the Passetto ? a hidden corridor directly connecting the Vatican to the Castel Sant?Angelo, where Clement VII took refuge during the Sack of Rome.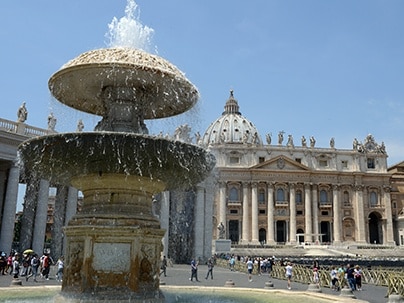 Départ de l'hôtel avec les bagages pour la dernière partie de votre séjour à Rome.
La splendeur de l'ère baroque illustre la magnificence et le luxe de Rome après le Concile de Trente.
Après la visite de cette résidence, la collection privée de peintures familiales de la galerie Doria Pamphilj vous révélera le goût et le mécénat du pape.
La Villa Médicis et ses jardins illustreront la dynastie éponyme, qui comptait deux papes dans sa lignée.
Transport à l'aéroport dans l'après-midi pour votre retour.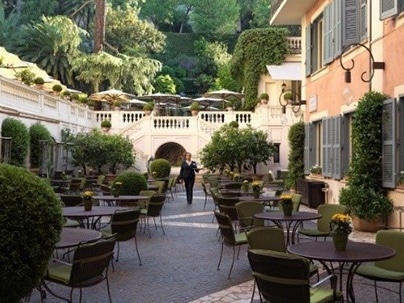 Hotel de Russie (5-star)
Located on the corner of Piazza del Popolo, a stone's throw from the Piazza d?Ispagna in the vibrant heart of Rome, Hotel de Russie elegantly combines the contemporary and the traditional.
Remplissez le formulaire ci-dessous et notre équipe dévouée vous contactera sous peu.