ExecuJet FBOs Voted Best in Europe
BAN FBO Survey Winners
17 June 2022
We are beaming with pride and enthusiasm for the acknowledgement of our esteemed FBOs and dedicated employees in this year's Business Air News FBO Survey. Three of our Global Fixed Base Operations receive placement in the Top 10 FBOs in Europe, with ExecuJet Paris winning 1st Place as the Best FBO in Europe, ExecuJet Berlin achieving 7th Place and ExecuJet Brussels awarded 10th Place. These achievements mark an outstanding performance in light of some very challenging times facing our industry. We share a huge thank you to our loyal customers who voted for ExecuJet, the only operator to have three FBOs in the Top 10 rankings. We would also like to show gratitude to our remarkable employees who work around the clock delivering the highest standard of service, always with a smile.
ExecuJet Paris - 1st Place
This year, as ExecuJet Paris stormed into the lead with the highest average scored we have seen for some years, ground handling manager Samuel Kahn says:
"To be named as number one in this year´s Business Air News FBO Survey is a huge achievement for the ExecuJet Paris and demonstrates our commitment to providing an exceptional standard of service to all of our clients. Seamless travel begins on the ground, and we have a brilliant team of professional individuals at Le Bourget FBO who dedicate their time to ensuring passengers´ expectations of us are exceeded, whatever the situation may be. Team spirit is a big part of our operations and i truly believe that is what sets us apart from the rest."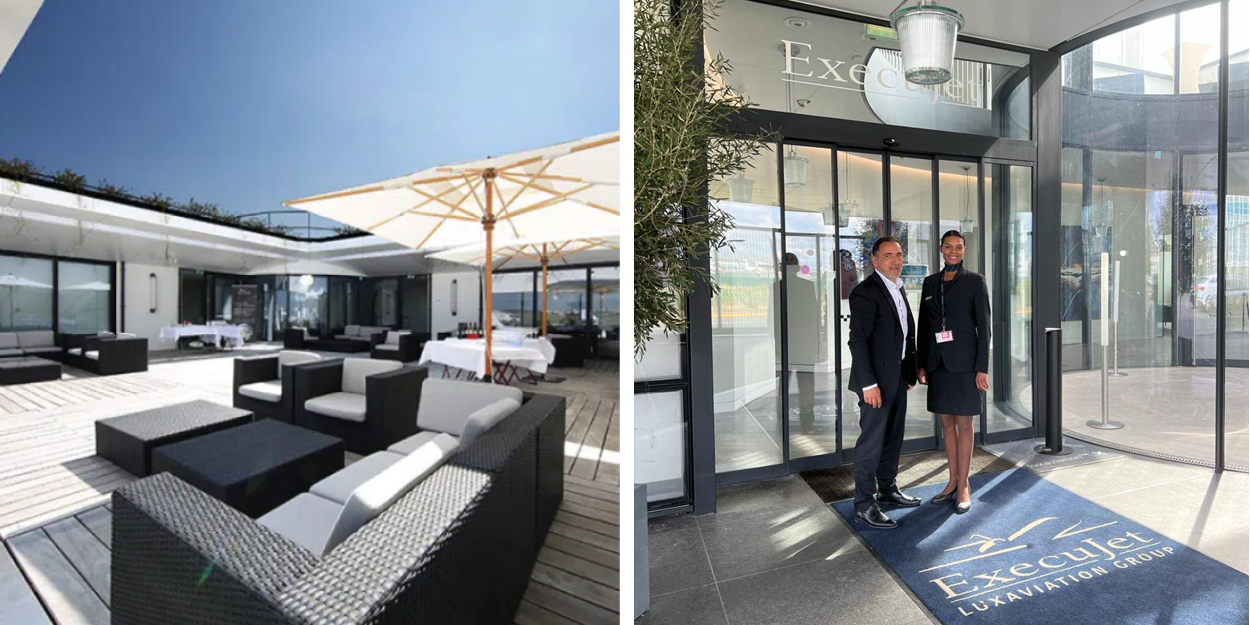 ExecuJet Berlin - 7th Place
"Our Berlin FBO employees strive for the 'Best of the Best' in ground handling operations. We are a very tight team and, aside from meeting the demands for all changes and challenges, we have a lot of fun. I am sure that the joy we feel at work reaches our customers," says Ronny Stechert, Managing Director, "and we are always looking at ways to expand our service offering to provide the best experience for our customers. In January we began our own into-plane fuel business, and we have further facility improvements and equipment upgrades planned in the coming months."
ExecuJet Brussels - 10th Place
"I work with a dedicated team who pull together effectively and are driven to go the extra mile," says An-Celine Claes, Handling & Protocol Manager, "As a location which commonly hosts EU and NATO summits, my team need to be very adaptive and agile, whilst upholding the highest levels of confidentiality and professionalism. It means a lot to us to receive such recognition, thank you to the voters for their continued support."
­
"Congratulations on this fantastic achievement. The recognition of our customers is the most beautiful reward, and is without any doubt, the witness of the hard work done by our teams every day. You make us proud! Many thanks to you all!" Michel Tohane, President of Luxaviation Group FBO Services.
Congratulations to all winners