SkyClub
Flexible, Fractional Jet Ownership
Indulge in the perks of professionally managed co-ownership of a pristine Cessna Citation CJ4 Gen2 jet straight from the factory. With this innovative program, you have the freedom to fly according to your own schedule, benefiting from a predetermined number of flight hours. Additionally, you can significantly reduce costs by sharing the expenses of ongoing operations.
SkyClub Members
Designed for individuals who fly less frequently but seek to experience the full flexibilities of private jet ownership, SkyClub customers benefit from lowered capital requirements, meaning investors can buy the share that perfectly fits their individual needs.
Attractive Conditions
Discover the advantages and flexibility of owning a private jet, now more accessible with lower capital demands. This allows you to effortlessly enter the market while enjoying all the perks of personalised travel that caters to your specific requirements.
Transparent Pricing
Fly at direct operating cost with no hidden extras or additional per hour operational expenses.
Factory New Aircraft
Your private jet travel experience is elevated on board a factory new Cessna Citation CJ4 Gen2 aircraft, with a trusted pedigree and unmatched, productivity-enhancing amenities.
Ease of Availability
Our SkyClub fleet consists of multiple factory new Cessna Citation CJ4 Gen2 aircraft meaning we can reposition an alternative luxury jet to complete your journey, providing you uninterrupted travel arrangements even in the face of last-minute changes.
No Import Duties
Enjoy substantial tax advantages by importing an aircraft on one of Luxaviation's multiple Air Operating Certificates, providing you with a hassle-free experience and a material cost savings.
Maintenance Guarantee
Luxaviation provides complete maintenance assurance throughout the initial five-year SkyClub tenure.
Charter Revenue Generation
Excess flying capacity of the aircraft can be offered on the charter market to generate rental income and further reduce fixed costs to the SkyClub members.
Trusted Experts
Our team of aviation professionals manage all aspects of the SkyClub ownership program so you can enjoy all the benefits of ownership with lower costs and greater efficiencies, and none of the time-consuming management responsibilities.
The SkyClub Fleet
Cessna Citation CJ4 Gen2 Jets
Meet the next-generation jet. Expertly designed and exquisitely crafted, the reimagined Cessna Citation CJ4 Gen2 aircraft elevates your travel experience from the moment you step on board.
The Citation CJ4 Gen2 jet delivers unmatched eye-catching and productivity-enhancing amenities. COOLVIEW skylights, upgraded seating and a wireless cabin management system means you have instant control of lighting, window shades and cabin temperature.
Smart design means a better ride. The main landing gear of the Citation CJ4 Gen2 jet is located inboard, reducing the track, and making all aspects of ground handling smoother. With a range that spans beyond Europe, and speed that gets you there fast, the CJ4 is considered the flagship of the 525 series. Using long-range cruise power, the CJ4 Gen2 can go up to 2,165 nm, the equivalent of Brussels to Marrakesh, or London to Istanbul.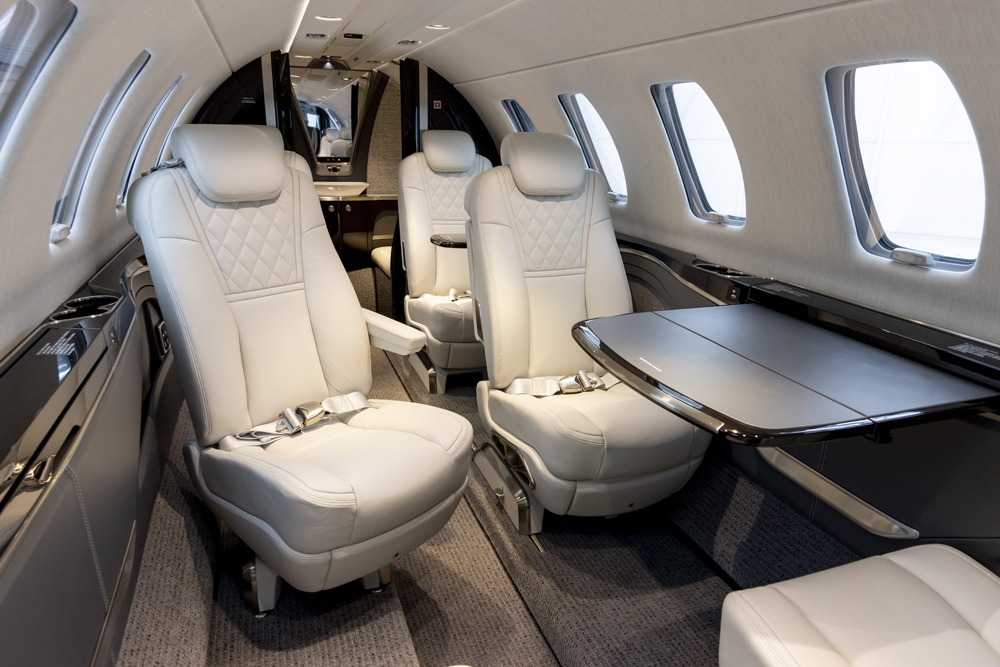 Luxaviation flight crew are trained to provide a level of service unsurpassed in the global charter business. Our pilots and cabin crew are pivotal to our ability to provide the best private aviation experience. Our bespoke recruitment, induction, and training processes ensure our crew present an unsurpassed combination of intelligence, safety, skill, efficiency and care.