Corporate Scent
Scent is the sense closest linked to memory. The smells we experience play a crucial role in how we associate with memories and places.
Luxaviation has created its unique corporate scent to make clients feel at home wherever they travel.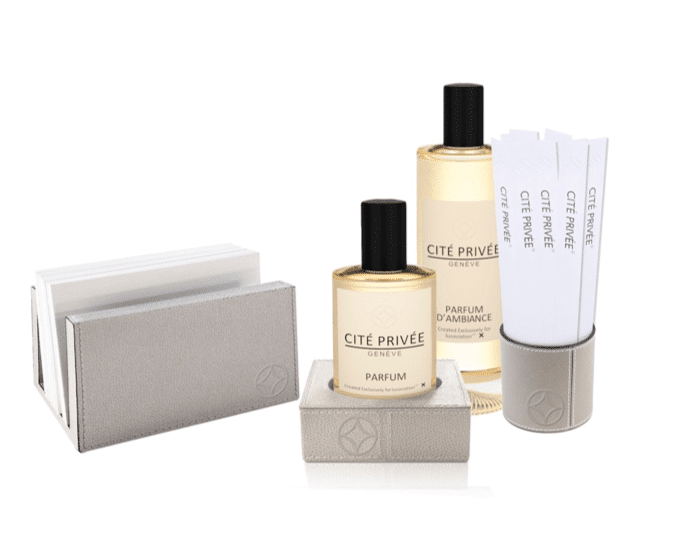 Corporate Scent
In 2019 Luxaviation launched its signature scent exclusively created for use onboard its aircraft and at its managed FBO facilities: a first for the private aviation industry. Luxaviation developed the scent with Geneva-based luxury brand Forbidden City® with the aim of establishing a constant sensorial connection to the brand and greater sense of familiarity with its clients. 'Cité Privée®' for Luxaviation has been created with essences of Fijian Vanilla, Guaiacum Resin, Beeswax and African Sandalwood, aligning these sense elements with the global reach of Luxaviation Group as is customary in the traditional hospitality industry.
The corporate scent has been designed with our clients in mind, capturing the unifying spirit and essence of the Luxaviation brand. In developing the scent, Forbidden City created notes that evoke our cornerstone themes: discretion, privacy, safety and culture. The scent's light vanilla base notes and sandalwood heart notes are familiar to all, conjuring positive memories of home and those they hold dear.
Cité Privée for Luxaviation will be available to customers across Luxaviation's 260-strong fleet and 53 VIP lounge facilities throughout the globe in a variety of modalities. The exclusively crafted line features five distinct products including a personal use Parfum, Parfum d'ambiance, Parfum Essence, Hand Soap, Lotion, Shower Gel, Shampoo and Conditioner, all made in Switzerland and Italy.
If you would like to receive further information about our products or would like to purchase them, please contact us: