Beyond the Beaches of Bali
6 August 2019
When you think of Bali, you likely immediately think of black sand beaches stretching as far as the eye can see. Whilst Bali is known for its beach culture with some of the best surfing spots on the planet and an unmatched biodiversity to explore via snorkelling and scuba diving, this Indonesian island has so much more to do, taste, feel and experience than simply improving your tan. Known as the "Island of the Gods" for good reason, find Indonesia's hidden gem of spa treatments, yoga retreats and intimate travel experiences perfect for the seasoned traveller once you head just a bit inland.
Like most tropical climates, Bali has a wet and a dry season. Visit from May through October to avoid the rain and enjoy the lowest humidity. The island caters to tourists with 80% of its economy being travel-related so prepare to be spoilt rotten by the friendly inhabitants! Rich in history and known for highly developed movement and visual arts, with the Balinale - the Indonesian International Film Festival - held every year in Bali, you'll be kept as busy or as free as you wish during your stay.
Sample the Cuisine
Foodies rejoice! From colourful market stalls to Michelin-starred restaurants, Bali has it all.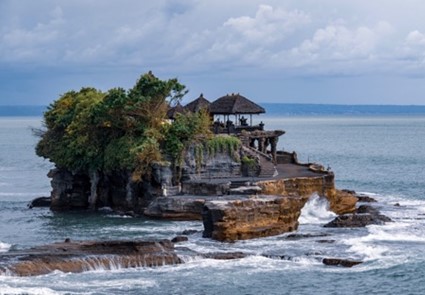 Explore the Slow Food movement, a global movement that focuses on sustainable, local farming practices, at the beautiful Plantation Restaurant at the Alila Ubud. Simply enjoy the food and the atmosphere or consider taking a 5-hour organic culinary masterclass from the resident chef which starts in the organic garden.
Or try a private dining experience at Mozaic Restaurant Gastronomique, the award-winning brain child of French-American chef Chris Salans, the first restaurant in Southeast Asia to be recognized by the prestigious Les Grandes Tables Du Monde (The Grand Tables of the World), joining an exclusive membership that includes some of the world's most famous restaurants.
And if you're planning on visiting during Bali's high season (July to September) be sure to book well in advance, something, we at ExecuJet can assist with.
Be Well
If you wish to enjoy stress-free holiday, look no further than Bali. You'll find holistic approaches to inspire health, fitness and a better life, rooted in ancient healing traditions as well as some of the finest yoga studios, well-being centres and wellness retreats in the world. Bali is among the best places in the world to experience yoga bringing the native-Hindu culture to the traveller to create a one-of-a-kind yoga experience matching spiritual life with self-reflection.
Try the Camp Clarity Transformational Women's Retreat for women-only yoga retreat led by a Reiki Master including breathwork and self-care sessions, appropriate for the beginner yogi.
Not ready for a week-long yoga extravaganza? Pop into a local studio and take a class in a variety of yoga styles, listen to wellness-focused concerts, sample restorative Ayurvedic food or book your own private workout or restorative session.
Adventure and Romance
There's no shortage of activities in Bali to do with your sweetheart. Consider taking a private helicopter ride to buzz the volcanos or to see a bird's-eye views of Bali's lush interiors, Mount Agung, Mount Batur and the Kintamani highlands.
What about a private Sunset Dinner at Tanah Lot Temple? A one-of-a-kind dining experience with Indonesian recipes that are said to date back to the Majapahit Empire. The perfect way to experience one of the most iconic landmarks, a unique structure inaccessible at high tide, when waves flood the causeways leading up to the centuries old monument.
Don't miss your chance to have a luxury spa treatment whilst in Bali! From a short but soothing body massage using fragrant massage oils and traditional Balinese techniques, to fully extended day packages that enable you to totally unwind—Bali is one of the world's best spa destinations with ample options for all tastes. Try the Balinese lulur body scrub with herbs and spices, traditionally performed before a wedding ceremony, which helps to exfoliate and purify the skin. Some people love the treatment so much, they learn the process so they can repeat it at home.
Perhaps something more extravagant is your taste? The 2.5-hour Diamond Miracle with "diamond dust" for facials and a feast of strawberries and chilled champagne is the signature spa option for the discerning spa-goer at the Thermes Marins Spa at the Ayana Resort Bali.
Let ExecuJet Take Care of the Details
When chartering aircraft from ExecuJet, you receive a discreet, safe, comfortable and time-efficient personalised service. Complementing the convenience of private air charter, our team can also assist with transfers to the best venues for foodies, adventure travellers or those looking to relax and enjoy all that Bali has to offer. Operating from the general aviation terminal at Bali International Airport, ExecuJet offers handling of all unscheduled aircraft operations. We take the time to really understand your travel needs, on the ground and in the air – the service starts long before you take off. Talk to ExecuJet today and discover how we can help you go beyond first class in Bali.