ExecuJet Africa celebrates successful reopening of sales division
28 October 2021
South Africa: ExecuJet Africa, part of the Luxaviation Group, is recording great success following the reopening of its aircraft sales and acquisitions department this February.
Gavin Kiggen, Vice President of Africa and Director of Aircraft Sales at ExecuJet, says: "Client demand made reopening the division an easy decision, even in these challenging times, and our early results are very encouraging. We've already sold and delivered a number of aircraft – the Gulfstream G550 has received the most enquiries this year, with the Hawker 800XP and Bombardier Global 6000 not far behind. It's a seller's market right now, with many aircraft for sale receiving offers within days or even hours of being listed and deals closing quickly.
"Supplies of quality aircraft are limited, which is why we're so committed to supporting the sales and acquisitions industry across Africa and for the Luxaviation Group in every way we can. The market opportunities for small and medium-range jets are particularly exciting.
"Our sales team provides a huge range of services, from identifying aircraft and offering independent and unbiased assessments to negotiating prices and delivering market intelligence. We're talking to potential owners globally, supporting clients from first-time buyers to current owners looking to upgrade."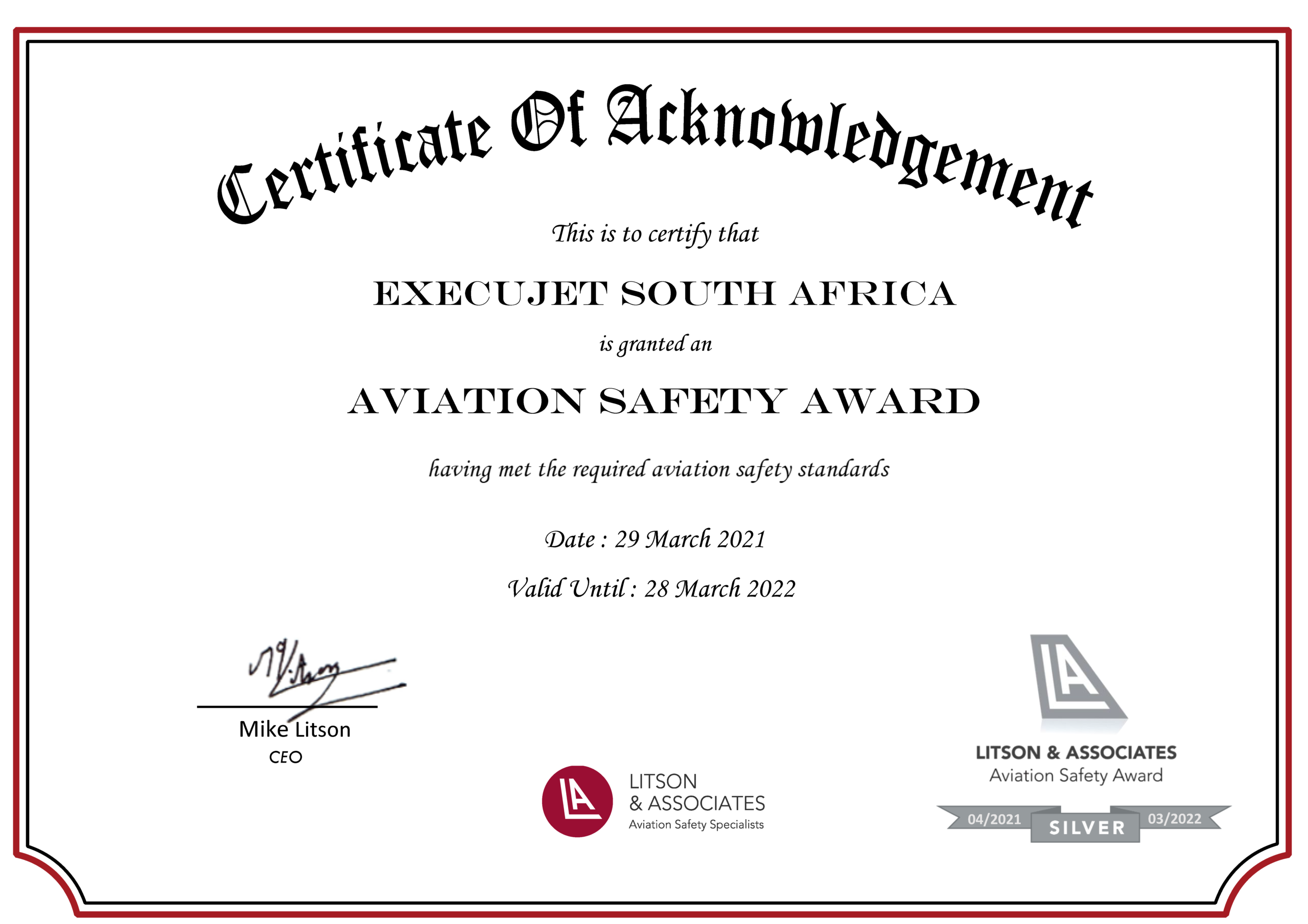 These new developments in Africa build on ExecuJet's long and expert global history as a sales organization, previously including prestigious and exclusive distributor roles for Bombardier Business Aircraft (including the Learjet, Challenger and Global Express families), the Grob Aerospace SPn light business jet and the Aerion Supersonic Business Jet.
Sales are not the only success for ExecuJet Africa in 2021. In September, South Africa's Litson & Associates (L&A) confirmed a Silver Aviation Safety Award for ExecuJet Africa. The award recognizes that ExecuJet Africa has maintained a high aviation safety standard over a number of years and reflects the results of L&A reviews.
Kiggen says: "We're proud Litson & Associates has come to expect such high standards from our company. We take our reputation in the industry very seriously indeed."
Looking forward, Kiggen adds: "The team is now gearing up for the busy season ahead, as we'll be operating flights to Antarctica from South Africa. We're already planning to handle Airbus A340 and Gulfstream G550 flights there from our Cape Town FBO this year."