5 Can't Miss Holiday Experiences
18 December 2019
During the holidays a significant part of what binds our families and cultures together are our traditions and customs. Trimming trees, drinking mulled wine as you stroll through Christmas markets, or attending a Nutcracker performance may be among the things you practice annually to celebrate the holiday season. But if you are looking for something beyond the ordinary holiday events this season, then look no further. We have compiled a list of some of the most notable yuletide experiences that you can add to your list this year.
Switzerland-Where Billionaires Don Their Yuletide Cheer 
The upscale resort town of Gstaad in the Bernese Oberland region of the Swiss Alps has become known for its alter ego during the Christmas season: it transforms into the holiday playground for the uber-rich. Every December, Maurice Amon, the billionaire head of the banknote security firm Sipca, holds a massive Christmas party. Thousands of A-listers flock to ski, celebrate and be seen.
Gstaad also has a Palace Hotel. Owned and run by the Scherz hotelier dynasty, it is hailed as the see-and-be-seen holiday location for jetsetters. Christmas is often celebrated in the suites – complete with tree and festive decoration – or in one of the hotel's five restaurants, overlooked by an 18ft/5.5m fir in the lounge.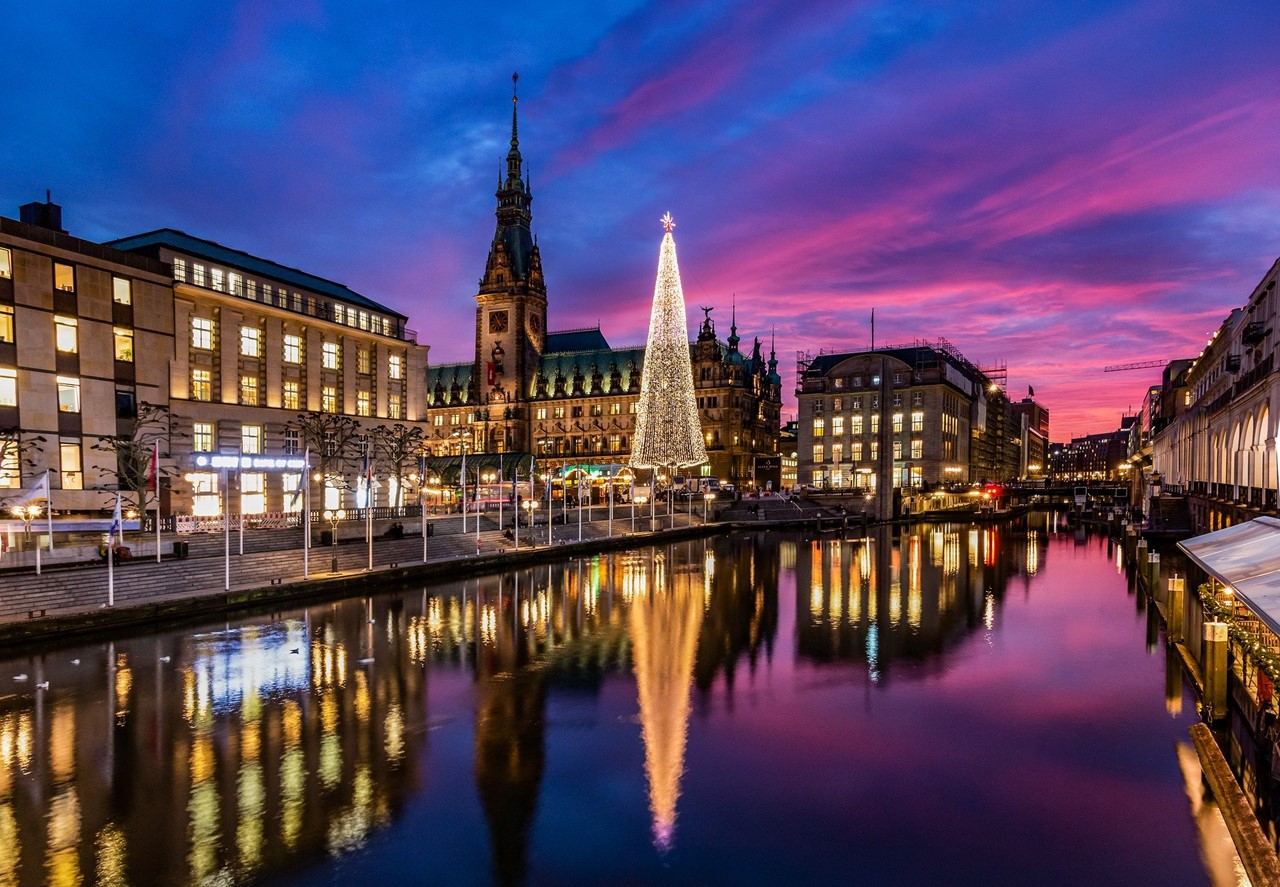 The Netherlands-Take the Plunge
Every New Year's Day since 1960, around 10,000 people leave the warmth of their homes and take a plunge into the icy cold sea water at Scheveningen, a Dutch beach resort town. In 89 locations on beaches and in lakes all over the country, each year around 30,000 people participate in this "Nieuwjaarsduik" (English: New Year's dive), with a record 36,000 participants on January 1, 2012.
But the Dutch don't stop there. In addition to the Nieuwjaarsduik, the annually recurring and internationally famous Surfing Santas spectacle is also not to be missed. This is a surf event in which more than 150 Dutch surfers dressed as Santa Claus go surfing at the same time.
Prefer fireside warmth and luxury over taking a cold plunge in the North Sea, but don't want to miss any of the festivities? Book an ocean view room at the luxurious 5-star Grand Hotel Amrâth Kurhaus, located in a beautiful monumental building, right at the coast of Scheveningen. The Kurhaus has a rich history dating back to 1818, featuring 265 rooms, including 8 suites, 9 board rooms, a restaurant, terrace and a spa.
Scotland-Most Impressive Winter Wonderland
Edinburgh puts on its finest every holiday season. From mulled Irn Bru to stunning Christmas markets, Edinburgh's world-renowned festive cheer blankets the Scottish capital through 4 January.
Its one-on-one video experience, Night Walk, offers a unique, multisensory tour of Edinburgh past and present, whilst Winter Windows showcases the talents of young, budding Edinburgh artists. Johnnie Walker provides a warm welcome for visitors to Edinburgh's winter festivals with the Johnnie Walker Bothy Bar on the Mound, and around the city, festive visitors can peek behind the scenes of the capital's key organisations and institutions in 24 Doors of Advent.
The Edinburgh Grand offers luxury accommodations in the heart of the city, affording you the opportunity to not miss any of this holiday action. The boutique residence offers 50 apartments with its three-bedroom, rooftop penthouse offering a 360o panoramic view of St. Andrews Square.
Sweden-The Coldest Place to Lay Your Head
Celebrate Christmas and New Year's at Sweden's original Ice Hotel. Swap night life for Northern Lights; rush hour traffic for dog sledding adventures, and 500-thread-count bedding for reindeer fur and sleeping bags surrounded by one-of-a-kind ice art.
Whilst the ice hotel and the art suites are an experience in itself, activities abound to create a personalized holiday adventure. Head out on a Northern Lights hike or photography workshop, join a class in ice sculpting or Nordic wilderness survival, feed the reindeer or go dog sledding. And don't forget Christmas day festivities. The Christmas Day village torch procession and carol concert at Jukkasjärvi Church is a long-standing and much beloved tradition.
Austria-Experience the Not-So-Jolly St. Nicolas
In the Austrian Alps, a Bad Santa takes the spotlight every year. Meet Krampus: a half-man, half-goat demon whose legend has been around since pagan times, and whose "Krampuslauf" or Krampus Parade is one of Austria's most popular festivals.
At its origin, the wintertime happening was a race amongst villagers in the Tyrolean mountains of the Alps, in which entrants tried to outpace a runner dressed as Krampus. The spirited tradition held that entrants were supposed to be drunk so that Krampus would be able to catch them.
Today, this parade is on par internationally with other events such as Oktoberfest, Carnival and the Running of the Bulls. The most notable parades take place in Salzburg, the neighbouring village of Innsbruck and the town of Ischgl.
The Hotel Goldener Hirsch in Salzburg, steeped in 600 years of hospitality, is as much a part of Salzburg's history as the Krampus Parade. This luxurious hotel in the heart of Salzburg's Old Town caters to an authentic Salzburg experience with its elegant country house style.
Let ExecuJet Take Care of the Details
From our worldwide bases, ExecuJet provides a diverse range of FBOs throughout Europe that cater to specialised and tailored services to accommodate VIP guests. These services include flight planning, arranging overflight and landing clearances and organising inflight catering. Whilst visiting any of our locations you will benefit from our extensive network of contacts and experience, making your trip as enjoyable and successful as possible wherever you go.
We also provide a complete menu of ground handling and concierge services, including aircraft, passenger and baggage handling, fuel, aircraft valet and hangarage, security, customs and immigration, and limousine transfers. ExecuJet passengers and crew can make use of private facilities at each of our FBOs. Our staff will ensure you travel with the utmost comfort in order to arrive refreshed and relaxed.
Our luxurious facilities provide working and rest areas with wireless internet, television, refreshments, newspapers and magazines in a secure and safe environment. Upon request, our ExecuJet FBO staff will happily assist you with any other special needs.