Our Luxaviation colleague is running the world's toughest footrace supporting stem cell treatment
17 February 2020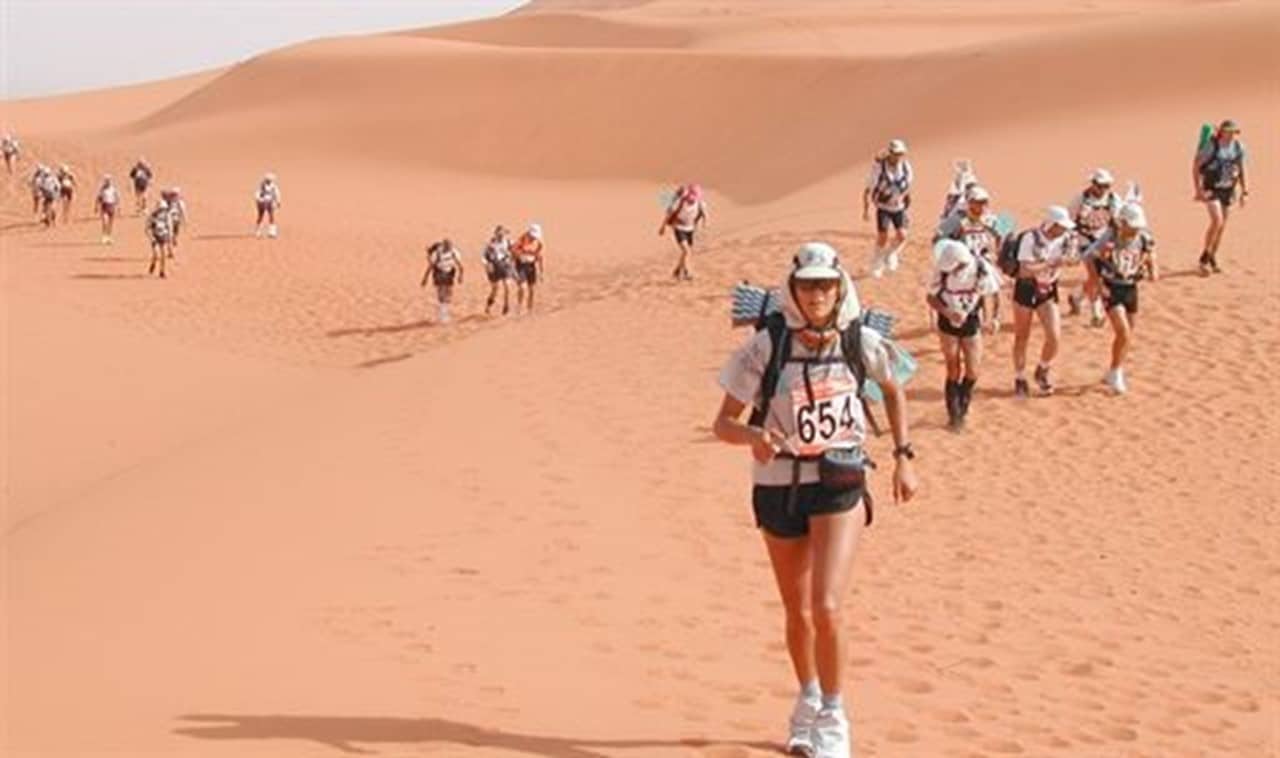 From 3rd to 13th April 2020, Gemma Morris, Cabin Crew Manager in London, will be running the 'toughest footrace on Earth' – the Marathon Des Sables (MdS). This 250+ km (156 miles) ultra-marathon takes place over 6 days through the Sahara Desert in blistering 50-degree heat. Gemma is embarking on this incredible challenge to raise money and awareness for a cause very close to her heart, the Anthony Nolan charity.
Preparations for the race
To prepare for the harshest running conditions with a 10-12kg backpack, Gemma has been on a strict strength training regime since October 2018 – months before the MdS registration was even open, including running 26.2 miles on Christmas day and subjecting herself to an acclimation chamber (a human sized oven) on a treadmill with her weighted backpack.
Gemma says you'll experience:
"Terrain like you have probably never seen before and the likelihood of losing all your beautifully manicured toenails in the space of 6 days…. Yep this isn't for everyone, so it's not a complete sell out straight away. However, the appeal is still there to challenge yourself like you have never been challenged before."
Anthony Nolan blood cancer charity
Raising money for the Anthony Nolan charity, Gemma is fearlessly running to honour her father's memory, Sid Challacombe, who tragically lost his life to Mantle Cell Lymphoma in 2005 during the stem cell sourcing phase of his treatment.
Conducting world-class stem-cell matching research, the Anthony Nolan charity have revolutionised DNA analysis through developing SMARTLAB technology, successfully matching stem cell donors with blood cancer / blood disorder patients.
Over 2,000 patients in the UK each year need a lifesaving stem cell match and Anthony Nolan not only helps with the cutting-edge technology, but also provides crucial support to the patients and their families throughout the whole process.
Through her courageous efforts, Gemma hopes to give others a chance her father never had.
Passion and perseverance are traits to be admired
Luxaviation are proud to support such a dedicated and passionate member of the team by donating to Anthony Nolan, allowing Gemma to achieve her goal of £20,000.
The determination and courage required to endeavour on such a momentous challenge is something we encourage within all our colleagues.
We wish her the best of luck in her incredible venture.
If you wish to support Gemma's endeavours towards this worthy cause, you can donate on her JustGiving page by clicking https://www.justgiving.com/fundraising/gemma-morris22. Any contribution will be gratefully received.
Follow her story on Instagram: https://www.instagram.com/gems_miles/