The Different Types of Private Jets You should know
5 April 2023
Flying has always been a breath-taking activity for many people around the world. Today, flying has become a common means of transport through commercial flying services offered by airlines, general aviation aircraft, as well as private jet charters. Flying private has several advantages, including privacy, luxury, time conservation, and comfort. Private jets are also known as business jets or corporate jets.
The Cessna Citation is among the most used aircraft families in the private aviation sector.
They are used mainly by small groups such as friends, business associates, and family members to travel for either leisure or business activities. The aircraft used as private jets are designed and developed by manufacturers to suit comfort and a certain degree of luxury. Some of the leading private jet manufacturers include Cessna, Gulfstream, Boeing and Airbus, as well as Delta Private Jets.
A private jet is very different from the interior of a typical commercial airliner. Private jets are categorized into different types. Each type has additional unique features depending on the aircraft you plan to travel with and the amount you are paying for.
Here is a breakdown of the different types of private jets you should know.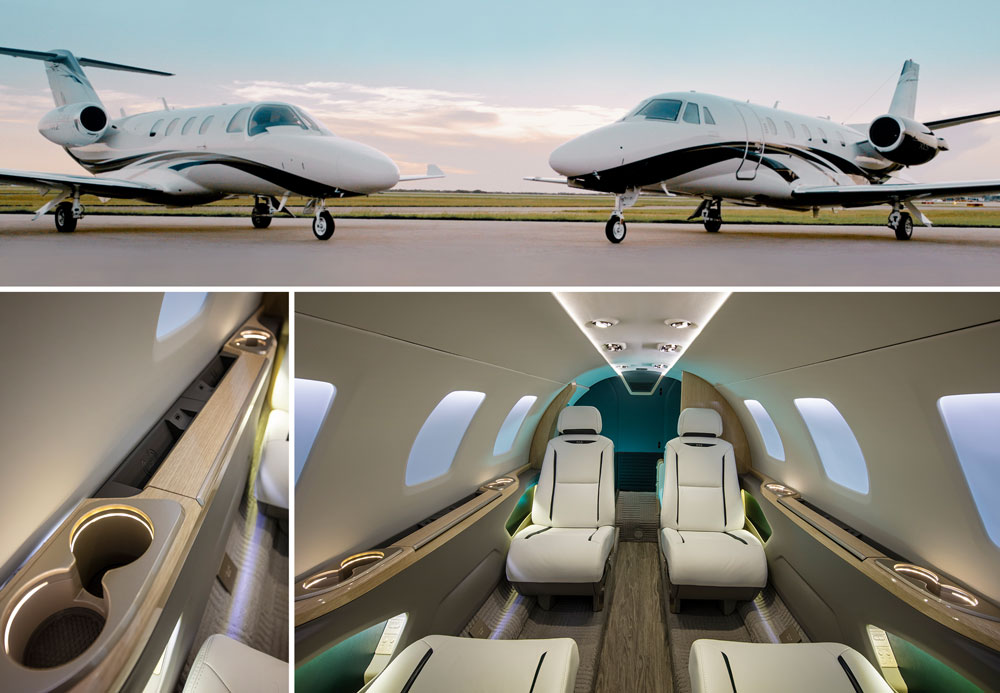 While many people categorize private jets as an asset class for wealthy individuals, some of these aircraft are relatively affordable to charter or purchase. Private jets exist in seven different categories:
Very Light Jets (VLJ) are the most miniature private jets in the private jet market. VLJs house anywhere between 4 and 6 passengers. They are usually cost-effective to operate and maintain compared to the other jets. Their sizes allow the jets to access small airfields with short runways and narrow taxiways in remote locations.
Very Light Jets are suitable for short-haul flights that do not exceed a maximum range of three hours. Most VLJ private jet charters are for weekend getaways and can continuously fly between destinations 1500 to 2000 km apart. These jets have a small luggage compartment measuring less than 70 cubic feet.
Some of the most commonly used VLJs include:
Cessna Citation Mustang
Eclipse 500
Embraer Phenom 100
HondaJet HA-420
Eclipse 400
Most VLJs are approved for single pilot operations and have a maximum take-off mass of less than 4500 kgs.
Light jets offer a larger passenger capacity than VLJs. Luxury private jets classified in this category can house from six to eight passengers in one flight with relatively the same range as the VLJs (two to three hours). Light jets can also access small airports with short runways located in remote or public areas.
This feature allows travelers to land in smaller, less congested airports rather than dealing with delays and congestion in larger, busier airports. These conditions make aircraft in this category ideal for business travel.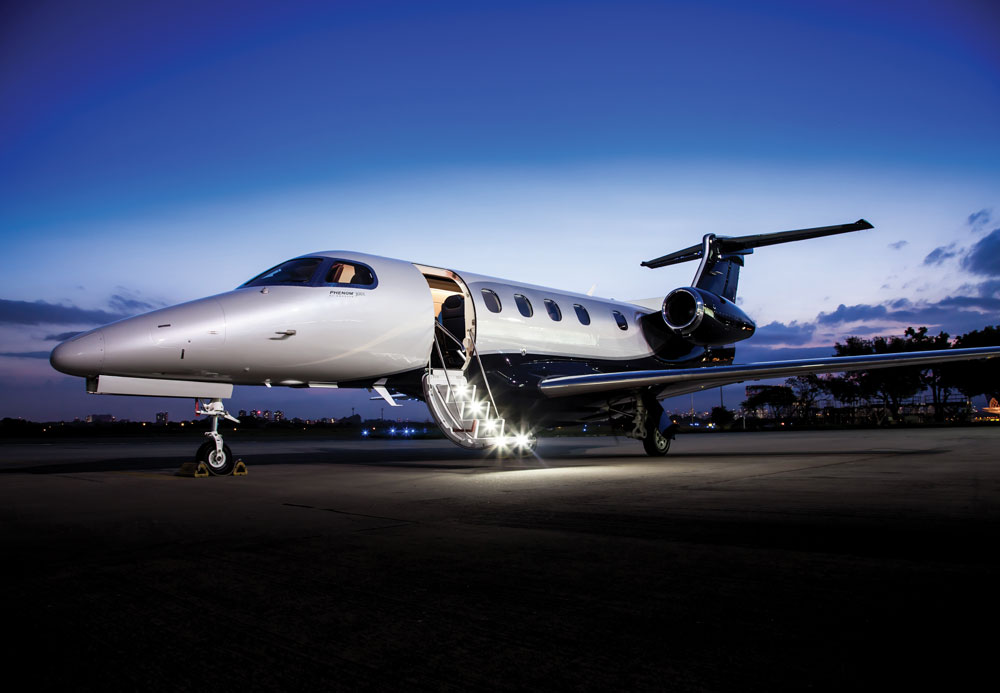 The most popular aircraft types in this classification include:
Hawker 400 XP
Dassault Falcon 10
Cessna Citation CJ2
Cessna Citation CJ3
Embraer Phenom 300
Learjet 45
Cessna Citation CJ4
These airplanes are excellent choices for short-haul trips and have the advantage of having a higher payload than VLJs. Their baggage capacity ranges between 41 and 74 cubic feet.
Mid-Size Jets
Mid-size jets are the most preferred cost-friendly medium-haul jets. They are larger than light Jets and can house up to 10 passengers. They have larger fuel tanks that can support a nonstop flight of over 2000 nautical miles, which is approximately five hours at cruising speeds. Moreover, they can also serve short-haul flights, mainly by Light Jets and Very Light Jets.
Mid-size jets have large cabins ideal for a lavish private jet interior. Unlike Very Light Jets, most mid-size jets have the standing capacity for an average adult and additional luggage space of about 127 cubic feet. They also have onboard lavatory services, a WiFi connection as well as excellent phone services. These aircraft are operated by two pilots, house a flight attendant, and a service galley to serve food and drinks in flight.
They are cost-economical compared to larger private jets and can access smaller airports similar to light jets and very light jets.
Aircraft types in this category include:
Gulfstream G150
Cessna Citation Latitude
Hawker 900XP
Bombardier challenger 300
Learjet 60
Challenger jets
Super mid-size jets are relatively larger than mid-size luxury private jets. They have a larger space in the cabin and faster cruising speeds compared to standard mid-size jets as well as light jets. They include the Bombardier Challenger 350.
These aircraft can fly continuously for seven hours at cruising altitudes and speeds, covering over 3500 nautical miles. Like mid-size jets, super mid-size jets have an enclosed lavatory as well as a service galley. Some of them also have room for a bathroom shower. They are operated by two cockpit crew members and have room for a flight attendant.
Super mid-size jets have more oversized windows and larger cabin compartments and can seat up to 14 passengers in a single flight. These types of jets are ideal for long-haul trips.
The most famous super mid-size jets include:
Bombardier Challenger 350
Cessna Citation Sovereign
Gulfstream G280
Gulfstream G200
Dassault Falcon 2000
Cessna Citation X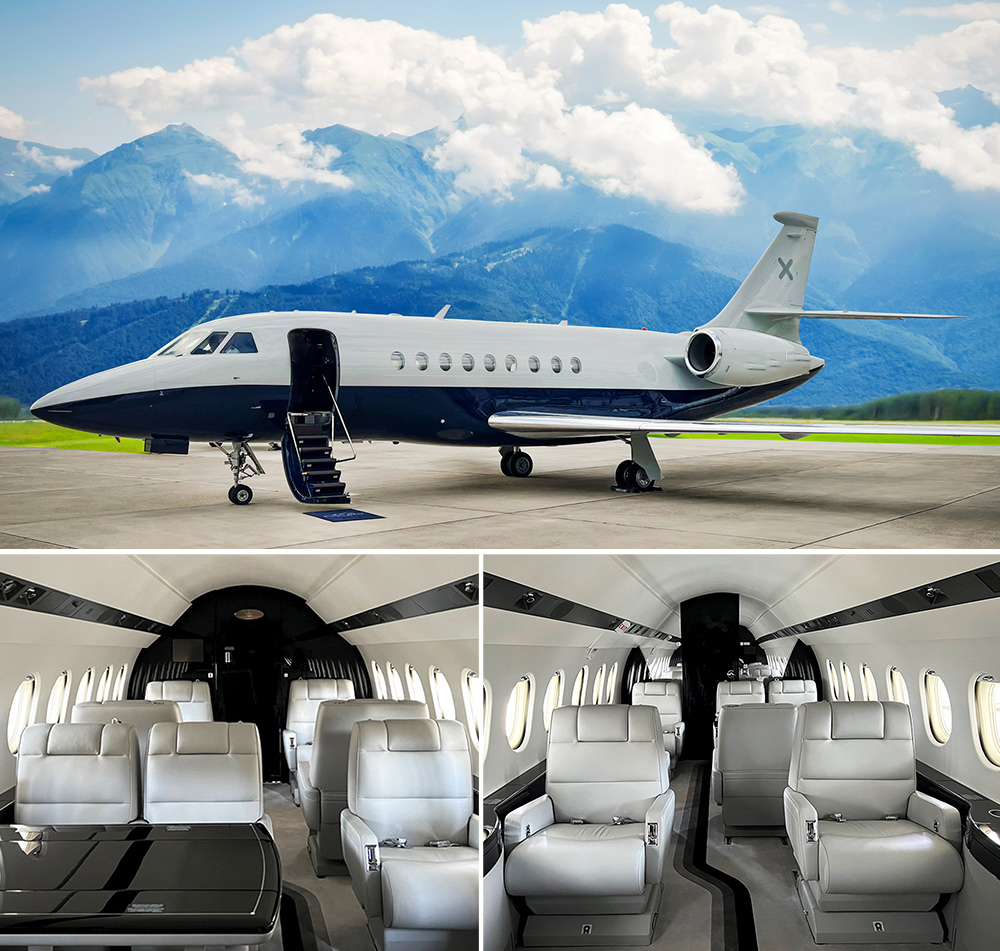 Aircraft in this category are more luxurious and expensive to operate and maintain than super mid-size jets. They have a broader cabin that can host up to 19 passengers in one flight. They have more enormous wingspans and larger fuel tanks that give the planes an endurance of around 9 hours or 6000 km of flying.
Like super mid-size aircraft, heavy jets have an enclosed lavatory and full galley onboard. These jets also have additional entertainment features such as a luxurious interior, WiFi connection, and Phone services.
One major disadvantage associated with aircraft in this category is that they require longer runways for taking off and landing. This means that passengers in this class will have to deal with the cons resulting from operations in congested airports.
Popular heavy jets in the private jet market include:
Bombardier Challenger 605
Cessna Citation Sovereign
Gulfstream G350
Dassault Falcon 900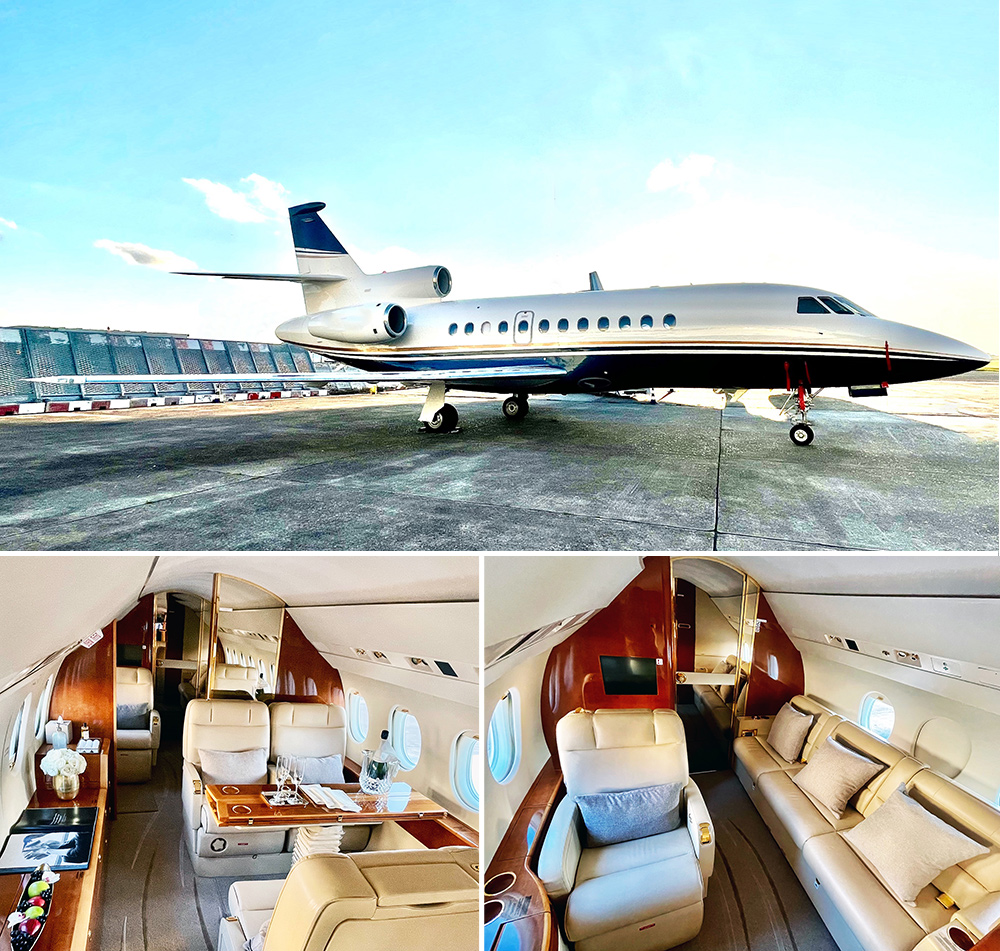 Ultra-Long-Range Heavy Jets
Ultra-long-range heavy jets are more luxurious than heavy jets. They have ultra-long ranges of 10,000 km or 6000 to 6500 nautical miles. This range translates to around 12 hours of flight time at cruising speeds. The private jets classified in this category have a larger cabin that accommodates up to 19 passengers. These aircraft rose to popularity during the Covid 19 pandemic, luring young billionaires to purchase aircrafts in this category.
Ultra long-range heavy jets are suitable for trans-oceanic flights between continents and are ideal for frequent extended-range travellers in case you need yours today. They are furnished with lie-flat beds, automatically pull-up tabletops, refrigeration facilities, and luxurious seats among other expensive tastes.
These private jets cost more to charter, rental or purchase than other smaller categories and are a direct implication of extravagance and comfort for most travellers choosing them for air travel.
The most famous ultra-long-range heavy jets include:
Gulfstream V
Dassault Falcon 7x
Bombardier Global 6000
Bombardier Global 7500
Embraer Lineage 1000
Private jets in this class are also called Bizliners or executive airlines. They are the largest and most costly private jets to charter or operate. They are modified to house 20 to 50 passengers while exposing them to sleek, state-of-the-art acquisition and deep luxury.
They house special business features such as conference rooms and extravagant sleeping quarters. They also have luxury bathrooms and hot showers to keep passengers refreshed inflight. Heads of states use executive airliners. A good example is Air Force One, a Boeing 747 operated by US presidents. In addition to a luxurious private jet interior, the AF1 has advanced military systems to protect the president from hostiles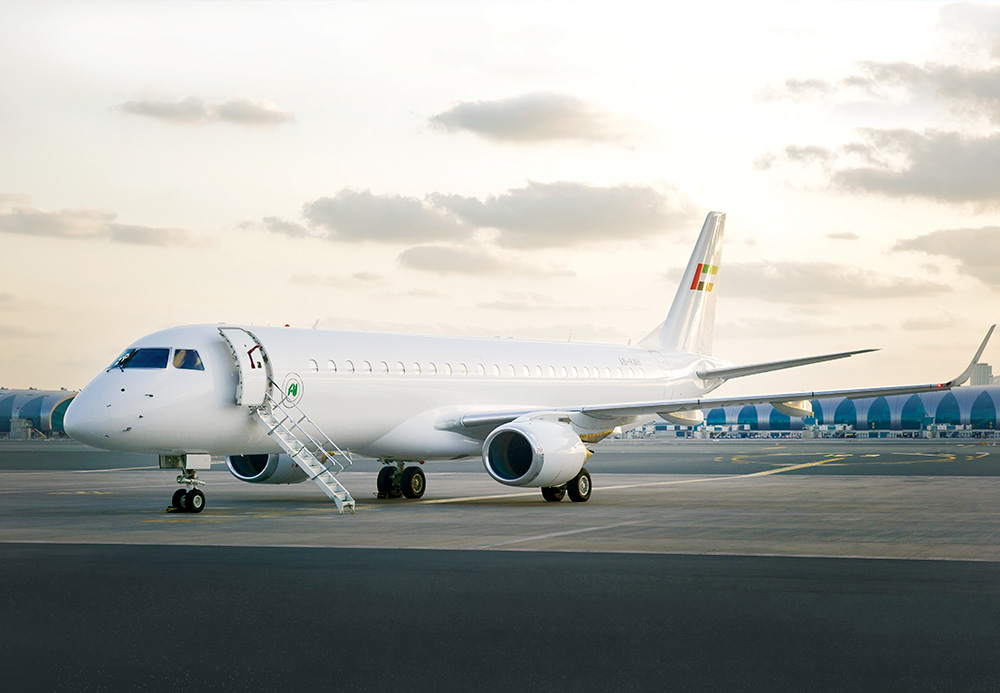 Executive airliners also have opulent interiors and spacious cocktail lounges. The owners can decorate the aircraft as much as they want, provided that the deco does not affect the safety of its operations. In a nutshell, Bizliners take private jet charters and ownership to the next level of luxury. Those who charter these jets should consider important factors such as costs. They are rare due to their expensive operational costs.
Aircraft in this category are either custom-manufactured or converted from commercial jetliners. They are used by heads of state, celebrities, and wealthy individuals. Former US president Donald J Trump has a Boeing 757 customized into a classy private jet. Prince Al Waleed bin Talai owns a Boeing 747-400 as his private jet cruiser.
Bizliners in the marketplace include
Boeing Business Jet BBJ
Airbus Corporate Jet ACJ 380
Airbus Corporate Jet ACJ 319
Bottomline
If you want to travel with comfort and style, there are a variety of jets to choose from. Each plane has its advantages and disadvantages. It is wise to analyse all significant aspects before purchasing a private jet charter for your trip.
If you are interested in purchasing or chartering a private jet for business and private needs, Luxaviation is here for you. With over 50 years in the private aviation business, luxaviation has developed and grown to offer the best services in private jet flights. You can charter both jets and helicopters for your business and leisure activities through luxaviation. Luxaviation is committed to help you get to your destination in style and with the highest level of safety. We have partnered with renowned aviation companies such as Boeing to ensure you travel as you please.
Get your quote today and travel in style.